Today there is a healthy vegetable pan. A vegetarian farmer's pan. Ouh Yes such a farmer's pan is a real classic. Delicious potato healthy onion a few carrots.
Usually still a lot of sausages and meat. But today we simply do without it. Instead, we'll add a few bar beans and broccoli to have a little extra protein. Already finished. My vegetable pan in the farmer's kind.
The recipe for my delicious vegetable pan.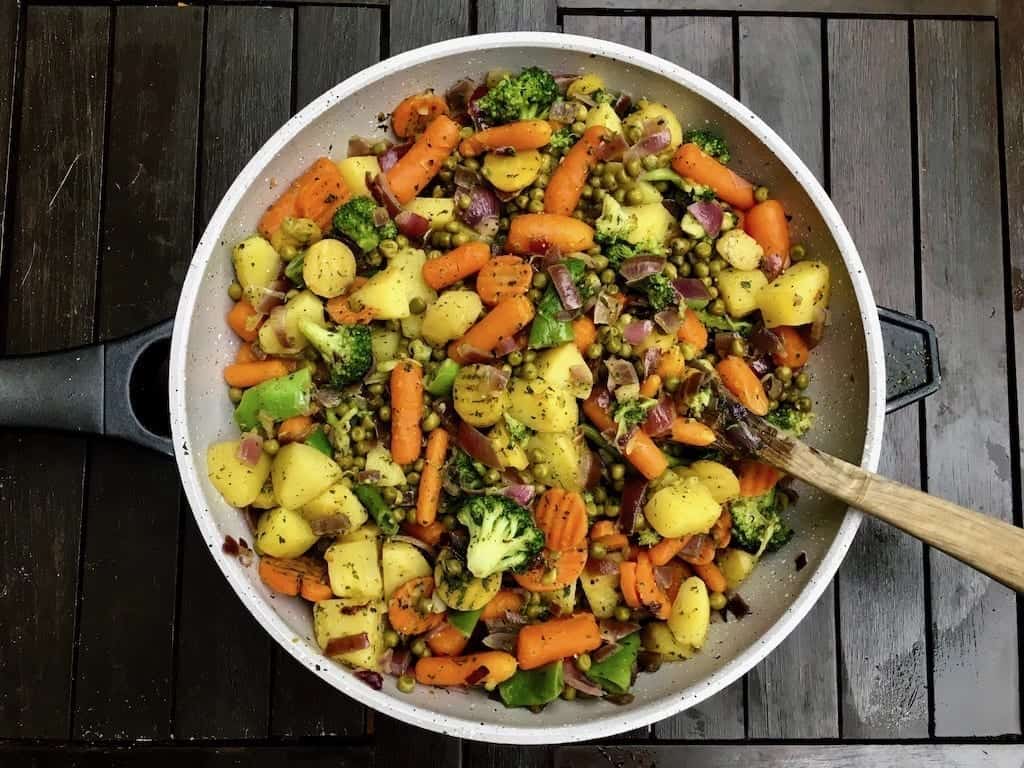 Ingredients
250

g

Onion

200

g

Broccoli

200

g

Green beans

400

g

Potato

530

g

Peas & Carrots (Canned)

14

g

Butter

1

Tbsp.

Pepper

1

Tbsp.

Parsley

1

Pinch

Salt
Instruction
Heat the butter in a pan.

Peel the potatoes, cut them into small pieces and cook for about 15-20 minutes.

Cut onion, broccoli & green beans into pieces.

Cook the broccoli and green beans in a saucepan (about 10 minutes).

Fry the onions in the hot butter and season.

Drain the peas & carrots and add them to the pan.

Add potatoes, steamed broccoli and green beans and mix everything together.

Continue to fry for about 3-4 minutes.
Nährwerte
Nutrition Facts
Veggie farmer pan
Amount Per Serving
Calories 378
Calories from Fat 63
% Daily Value*
Fat 7g11%
Carbohydrates 60g20%
Protein 15g30%
*
Wenn du meine vegetarische Bauernpfanne genauso lecker findest wie ich. Dann empfehle ich dir mal in meiner Rezept Abteilung hier auf dem Blog zu schauen. Dort findest du, eine menge an super leckeren und gesunden Fitness Rezepten!
WERBUNG: